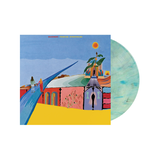 Promise Everything Deluxe Vinyl
Availability:
This item is currently not available
The Basement Promise Everything Deluxe vinyl here features the original album, plus 4 bonus tracks – a cover of The Cardigan's "My Favourite Game" plus acoustic versions of "Aquasun" and "Blinded Bye" and the song "Cloud" which originally appeared on a 7". The album is remixed and remastered. This vinyl comes on a single 12" vinyl, with poster pullout in the packaging. The record has never been pressed on this exclusive colored vinyl before!
Tracklist:
1) Brother's Keeper
2) Hanging Around
3) Lose Your Grip
4) Aquasun
5) Submission
6) Oversized
7) Blinded Bye
8) For You The Moon
9) Promise Everything
10) Halo
11) My Favourite Game
12) Aquasun (Acoustic)
13) Blinded Bye (Acoustic)
14) Cloud